Press release
Greens tap Cuffe, O'Sullivan and O'Reilly for European elections
17th September 2023
Image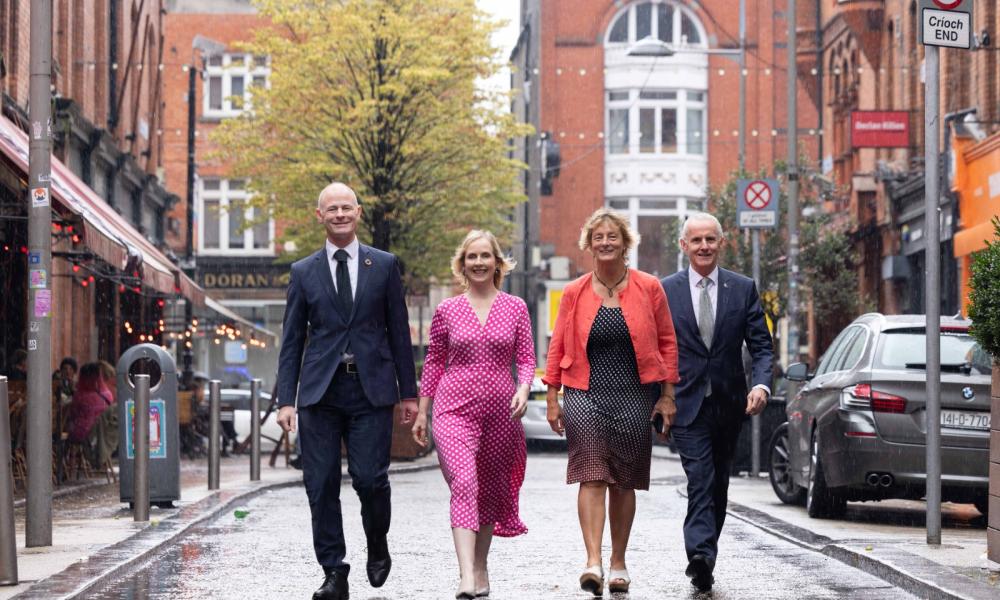 The Green Party said Ciaran Cuffe MEP, Grace O'Sullivan MEP and Senator Pauline O'Reilly will contest the European elections in June. Minister Ossian Smyth will serve as the party's director of European elections. 
The announcement was made at a press conference in Dublin on Sunday (September 12) following internal elections which saw party members voting for their preferred candidates. 
Ciarán Cuffe is the Green Party MEP for Dublin and an active member of the Parliament's transport and tourism (TRAN) and energy (ITRE) committees. A first-time MEP, Ciarán has gained considerable influence in Brussels since his election in 2019, in particular following his appointment as lead negotiator on a crucial new climate law - the Energy Performance of Buildings Directive (EPBD).  
His priority as an MEP is making laws that will provide a better quality of life for the people of Dublin. For Ciarán, this means taking measures to fight climate change, deliver decent and affordable housing, and tackle the cost of living crisis. He is a former Councillor for Dublin's North Inner City, TD for Dún Laoghaire, and Minister of State with responsibility for climate change. Ciarán lives in Stoneybatter with his family and his dog. 
In response to being selected, Ciarán said; 
"The people of Dublin have been through a lot since the 2019 elections: a global pandemic, an energy crisis that saw bills skyrocket, as well as the ongoing housing and cost-of-living crises. As their representative in Europe, I have spent the last four years fighting for better laws that can provide them with a decent quality of life, reduce inequalities, and fight climate change. 
"During that time, the Greens in Europe have delivered over 20 new laws that will fight climate change while providing decent opportunities for workers and protecting the most vulnerable in our society. I am proud of what we have achieved so far, but our work is far from over.  
"I am humbled to accept my party's nomination to run as MEP for a second time, and I am grateful to the members that have placed their faith in me. I look forward to having the opportunity to continue my work on climate action and a clean and just transition for Dublin in Europe over the next five years." 
As a mother of three, environmental education specialist, ecologist, former Greenpeace activist and former Irish surf champion, Grace O'Sullivan has led a rich and varied life. She was born and grew up in Tramore, Co. Waterford. She has been a lifelong nature-lover and environmentalist with a particular love of the sea and her life experiences have inspired her political work.  
Grace was honoured to be elected as an MEP for Ireland South in 2019. Throughout this mandate she has completed extensive work to ensure that social justice and environmental issues remain top priorities in Irish and European politics. Grace has been a strong voice for the Nature Restoration Law, protecting our oceans, and delivering a strong and meaningful EU Green Deal. 
After the result was announced, Grace said; 
"It's an honour to be put forward again to represent Ireland South for the Green Party in the upcoming European Elections. It has been a total privilege to work in the European Parliament since being elected in 2019. I have dedicated my time as an MEP towards social justice and protecting our planet, and I am lucky to have played a leading role in creating important change on the Parliament's Environment and Fisheries Committees. I feel that there is still so much work left to do, and I'm ready to continue being a Green voice for Ireland in Europe." 
Pauline  has been the chair of Green Party since 2022. The former family law solicitor has been a senator since 2020. She comes from Galway where she sat as a councillor on Galway City Council. Pauline is a member of the Joint Oireachtas Committee on Education and the Joint Oireachtas Committee on Climate Action. She is also Vice Chair of the Gender Equality Committee and Chair of the Oireachtas Committee on Breastfeeding. She previously served in a voluntary position within the University of Galway as a board member, was the chair and founder of Cuan na Gaillimhe National School, chairperson of Home Education Network Ireland and a board member of Galway Community Circus and Leisureland.  
"I'm delighted to have the backing of the two sitting MEPs and members from right across my region of Midlands Northwest in running. I was elected on the first count as a councillor in Galway in 2019. I led the Greens in the Seanad and I am now chair of the Party as well as Senator. I firmly believe that his seat is winnable by someone passionate, determined and hardworking, who understands and listens to the diverse electorate urban and rural, from Eastern commuters to the wilds of Connemara in my own county, and right across the Midlands.  
"I am an experienced legislator. Nationally I played a critical role in the drafting of the Climate Act, as well as multiple pieces of legislation on women's health, sexual assault crimes, and education. At a European level I am an election observer, and a member of the OSCE Parliamentary Assembly. The European Parliament is where much of our equality and climate legislation is initiated and we need experienced Green politicians at the table now more than ever."