Press release
Night time economy report sets out to reignite Irish towns and cities
15th September 2021
Image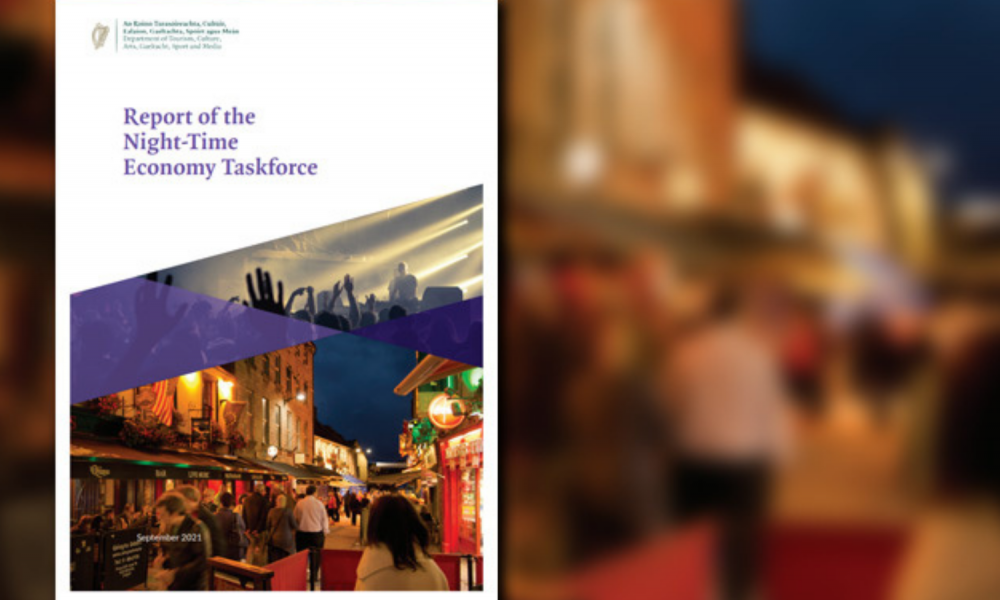 Catherine Martin TD, Minister for Tourism, Culture, Arts, Gaeltacht, Sport and Media, today (15 September 2021) published the Report of the Night-Time Economy Taskforce and welcomed the recommendations.
At the launch today in the Button Factory, Dublin, Minister Martin stated;
"Ireland's nightlife is an important sector, contributing to our economy and our cultural and creative communities. We must protect, support and sustain it – particularly as we begin to emerge out of this pandemic and start to think about how and where we socialise and plan our city and town centres.
"This announcement today sets out to reignite our night-time culture and economies putting Ireland on a par with other European cities, which thrive after dark. It is about opening doors for our creative communities, turning the lights on in empty buildings, easing licensing restriction and costs for venues and above all offering audiences and patrons exciting new nightlife options."
Minister Martin established the Night-time Economy Taskforce on 30 July 2020 as one of the priority actions for the Department of Tourism, Culture, Arts, Gaeltacht, Sport and Media and a key commitment in the Programme for Government. The taskforce, made up of a wide range of Government Departments and Agencies, the Lord Mayor of Dublin and Cork and Give Us The Night, examined key challenges facing night-time culture. These included regulations, licencing laws, transport and diversity of cultural activities, with the aim of identifying solutions and new opportunities.
Cllr Hazel Chu, Chair of the International Best Practices Subgroup of the Taskforce said;
"The Green Party has been advocating for a revitalised night time economy for many years. The actions outlined in the Report – noted by the Government today – seek practical solutions to obstacles and challenges for the Night-Time Economy or seek to explore new and better ways of doing things using existing structures. Extended late-night accessible transport options, safe environments for patrons and workers overseen by community plans and late retail openings are some of the many recommendations that will transform modern cultural life for young and old in Ireland as well as attract nightlife tourism in line with other popular destinations in Europe."
The Report contains 36 proposed actions across a range of Departments, Agencies and the Night-Time Economy sector itself and covers a number of initiatives and pilot projects including the piloting six new "Night-time Economy Advisors" in six cities and towns to develop new Night-Time Economy opportunities; improved transport options with proposed new 24-hour routes; and the extension of opening hours in the National Cultural Institutions and the development of exciting new pilot projects for late night activity. The Green Party fought for a review of the night-time economy during Programme for Government negotiations.
Green Party Cllr Claire Byrne stated;
"As a Councillor, I've spent years campaigning for a Night Mayor for Dublin and to create a more vibrant, night-time economy. I worked with Minister Martin last year to include many of these proposals in the Programme for Government and to make sure Give Us The Night was included in this process. It's a huge step forward in helping the music and events the sector not just survive, but thrive and create a vibrant, diverse and sustainable night culture in Ireland with something for everyone."
Read the report in full at gov.ie/nightlife