Blog
Volunteer Week: 'I am energised by canvassing. Even when they close the door you learn something'
26th April 2022
Image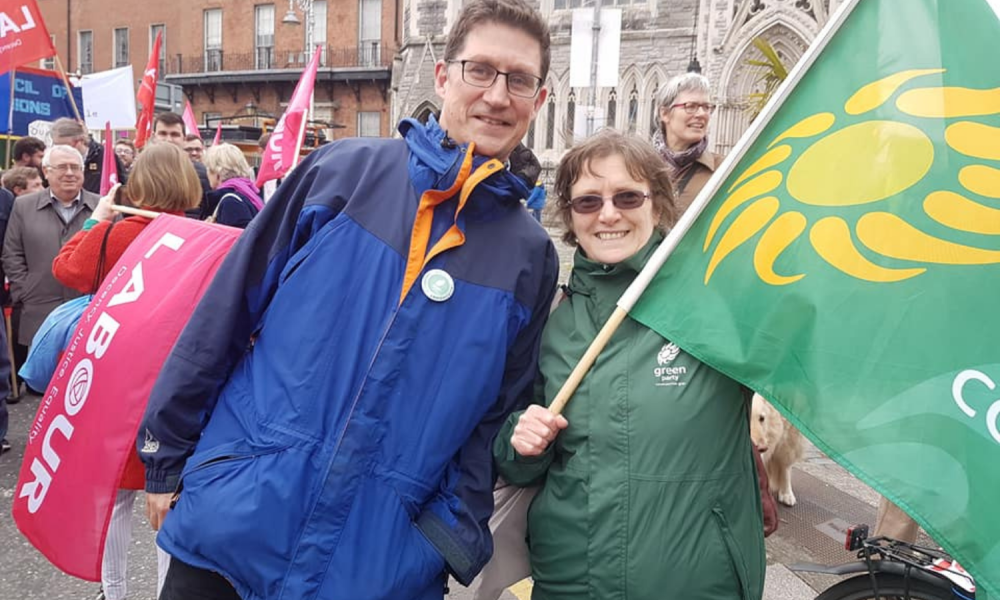 Volunteer Week 2022 starts on May 16th, and in recognition of the massive work of volunteers, Green Award Winner Mary Ryder shares her experience as a volunteer for the Green Party.
As a student in UCC many years ago, I was actively involved in the Students' Union, and the campaigns during that period often led to engagement with politics and politicians on the wider stage.
When I left college, I took up various issues as they arose, many relating to social justice, the EEC (it was that long ago!), unemployment, and the environment. But I was never inspired to join any political party as their "bigger pictures" and leading figures didn't inspire me with any confidence, however they might publicly opine on a particular issue.
One night, in the run-up to the 1999 local elections, I was canvassed by Cllr Dan Boyle's team. Light-bulb moment. I put on my jacket and went with them on the canvass, and for the rest of that (successful) campaign. Even though it was a few more years before I actually paid my membership, I've been here since.
Volunteering in a party like this asks much, in different ways, but though I am mostly rewarded (and sometimes disappointed and frustrated), I never lose sight of the bigger picture. We have a monumental job to do, we have no-one else we can rely on, we need to keep the lamp lit and the flag flying for our beautiful home. If we mess this up, there really is no Planet B.
My volunteering roles have been wide-ranging: canvasser, candidate, local Chair, member of the Executive Committee, National Co-ordinator, delegate to Policy Council, Policy contributor, public speaker, and Secretary of Cork Greens.
In all of this, I have learned that we cannot afford to make enemies – even the harshest critics can be persuaded of something. We cannot afford to alienate people who agree with us some of the time, because it is in the intersection of agreement that we make progress. We must expect opprobrium from those we thought were our friends as they see only the biggest prize, and not the practical obstacles on the route to it.
The nice bits are the energy, the spark of intelligence that I recognise as speaking the same language, and the commonality of interest and world view. And we're a particularly quirky bunch, aren't we? Never boring! I am energised by canvassing. It's great to meet people, even when they close the door you learn something. And I particularly love the successes. These last few years have shown what we can really do when we get our hands on the tiller and have a fair wind behind us. Whatever the outcome of elections to come, Green stripes are wide in local and national policy; it will be difficult to paint over them.
Often, I felt a little like Sisyphus constantly pushing that rock up the hill, only for it to roll back down again. Sometimes I feel like the top of the hill has been reached too late – it is in fact a cliff-face by the time I get there. However, I'm still here, we're still here, and that is where the hope and determination still springs.