Press release
'The work of the news media is crucial to combatting climate change disinformation' - Minister Catherine Martin calls for action at Dublin Climate Summit
13th May 2022
Image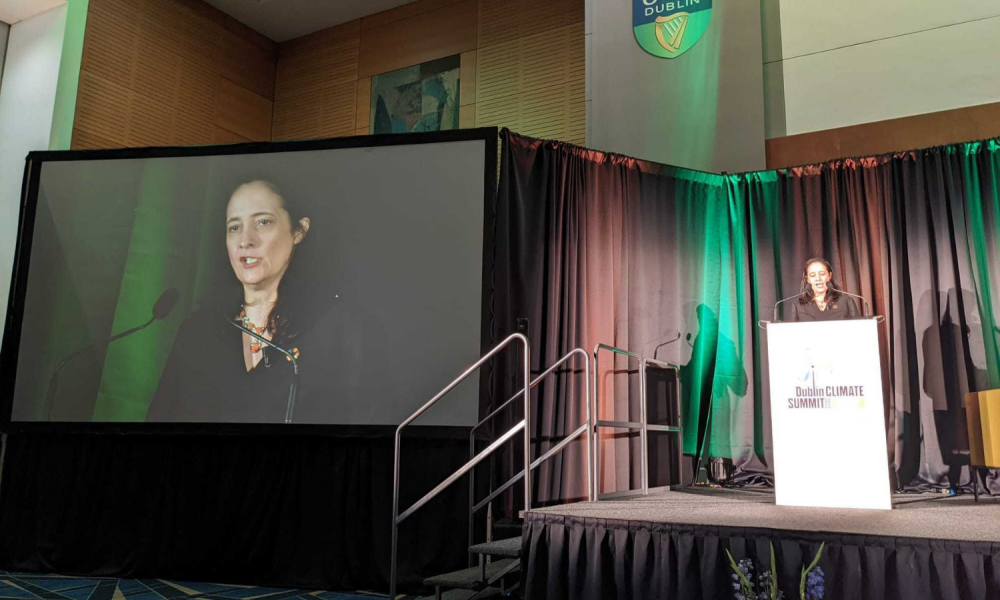 Speaking at the Dublin Climate Summit yesterday (Thursday, May 12th), Minister for Tourism, Culture, Arts, Gaeltacht, Sport and Media Catherine Martin TD highlighted the important role the media plays in communicating accurate information and shaping public opinion about climate change. Started in 2021, The Dublin Climate Summit held its international conference at UCD, bringing together industry, business and government to exchange ideas on how to deliver a carbon neutral future.
Minister Catherine Martin TD said;
"Climate change will impact every citizen, every household, and business in the State and across our planet. The conversations we are having today will be important in informing the choices of businesses and citizens for the future.
"As Minister for Media, I am acutely conscious of the role the media can play in addressing climate change and influencing public opinion.
"A well-informed public is vital to the functioning of our democracy and fundamental to our self-governing society. A widespread understanding of the causes and effects of climate change is ultimately a pre-condition to taking action, as individuals and as nations. Given the sheer scale of the impact of climate change on all of our lives, there is a very special responsibility on the news media to communicate accurate, informative and trustworthy information about climate change to the public.
"Accurate coverage will only be truly effective if sufficient resources and prominence are devoted to the coverage of climate change and where appropriate, the link between climate change and a news story is clearly signalled. And we thankfully are seeing, hearing and reading much more of this in our own media.
"The work of the news media is also crucial to combatting climate change disinformation and denial and to debunking conspiracy theories. We witnessed the danger that conspiracy theories regarding COVID-19 could pose to public health during the recent pandemic."
Minister Martin recently announced the launch of a €5m fund for climate broadcasting projects through the Broadcasting Authority of Ireland (BAI), co-funded by the Department of Environment, Climate and Communications. The announcement was part of the wider €10.5m Sound and Vision scheme and comes on foot of the Climate Action Plan 2021, which commits to supporting the development of media content that raises awareness of climate change and promotes action and behavioural change to combat it.
Minister Martin concluded her speech with a call for collective action on climate change;
"The Government cannot, of course, drive climate action on its own. We need a collective effort from all areas of industry to take action and to shape and positively influence public opinion so that we can drive meaningful change. The climate crisis is a monumental challenge, but it is one that we, if we are equipped with the necessary skills, knowledge and resolve, can overcome together."
The event was opened by An Taoiseach Micheál Martin, with speakers including Minister for Finance Paschal Donohoe, Jean Rogers, Senior Managing Director of Blackstone, and Kay Harrison, New Zealand Climate Change Ambassador. The Summit also featured a panel on the role of media in addressing climate change with RTÉ's Miriam O'Callaghan and Jon Williams, Independent Climate Correspondent Saphora Smith, and Irish Times Environment Editor Kevin O'Sullivan.