Press release
Young people could save up to €3000 a year on public transport with new fare reductions
8th May 2022
Image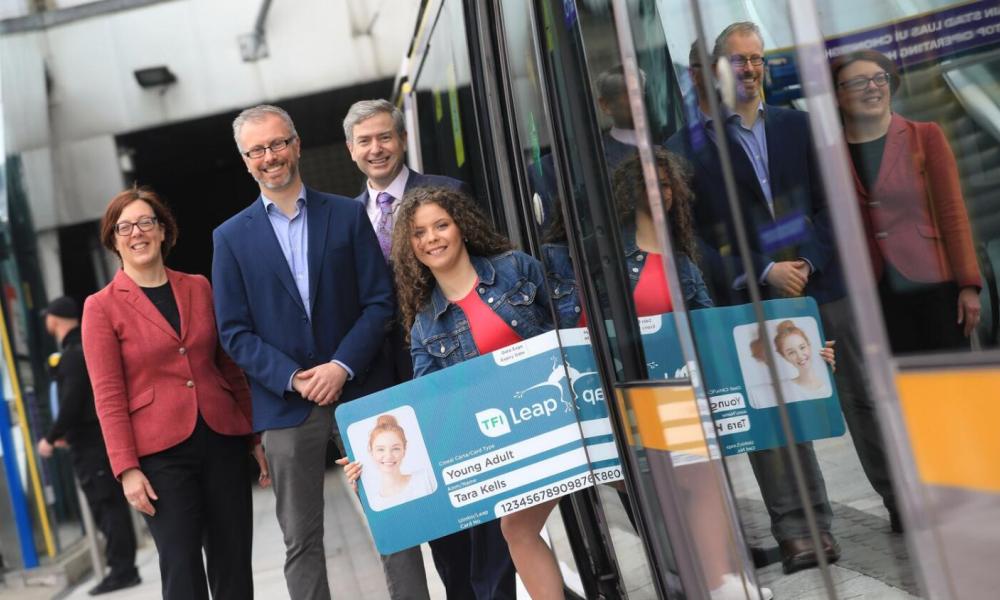 Half price travel on public transport for people between the ages of 19 and 23 will come into force from Monday (May 9th) seeing potential savings of up to €3000 a year.
With the additional 20% fare reduction on all public transport announced as part of the government's cost of living supports, this means that public transport costs for young adults will actually be 60% cheaper until the end of this year. The move is part of the Green Party's commitment to reducing the pressures of the rising cost of living and increasing opportunities and mobility for young people.
Minister for Children, Green Party TD Roderic O'Gorman stated;
"Increasing mobility and opportunities for young people is vitally important, and this permanent fare cut of 50% is a measure that offers practical help. This is a proposal that came from young people and applies to everyone between 19 and 23, including those in apprenticeships and who have entered the workforce. Young people are demanding increased action on equality and climate, and the Green Party is committed to delivering on these issues.
"People across the country are coming under more and more pressure as the price of essentials continues to increase. The Green Party fought hard to secure the additional 20% reductions in public transport as part of our response to the rising cost of living, so that everyone could benefit from reduced public transport costs and to support the country's recovery post-Covid."
From Monday, the TFI 90-minute fare will now be just €1 for students and Young Adult Leap Card holders. City fares in Cork, Galway, Limerick and Waterford, will be reduced to 0.65 cent single on the Young Adult Leap Card. This is 73% less than a standard adult cash single. This means that a young person taking the bus to work, education or for leisure purposes in any of the regional cities, travelling five days a week, will save €3.50 a day, €17.50 a week and €540 to the end of the year. Single town fares, such as in Athlone, Balbriggan and Sligo, will drop to 0.55 cent.
Increasing mobility and opportunities for young people is vitally important, and this permanent fare cut of 50% is a measure that offers practical help.
Green Party Spokesperson for Transport, Brian Leddin TD stated;
"The permanent reduction of 50% on travel fares for young adults is unprecedented. The Green Party want to make it more attractive and easier for people to use public transport and to develop a habit of a lifetime. Choosing public transport can help us reduce our greenhouse gas emissions and cut down the congestion faced by commuters in towns and cities across the country. If more people choose public transport, we will have better, more liveable towns and cities, with better air quality and safer streets for families and children to walk, cycle and play. "
While the 20% reduction on all fares will run to the end of 2022 the 50% reduction for 19-23 year olds is permanent and the yearly savings for young people could be significant. One example shows that for a young person travelling from Clifden to Galway, the standard cash fare of €16 will be reduced to €5.60 on the Young Adult Leap Card. If a young person living in Clifden goes to Galway three times a week, that is a saving of €20.80 per round trip, €62.40 a week and more than €3,200 annually.
Green Party Chair and Spokesperson for Education, Senator Pauline O'Reilly added;
"Young adults in third level education are facing mounting costs and barriers due to the lack of available accommodation and high costs of rent, among other factors. Many students are forced to commute longer distances in order to attend courses. I welcome today's introduction of significant reductions in public transport, which will ease some of the financial strain of young commuters and make it easier to focus on learning and preparing for their futures."
The new low fares apply to all subsidised public transport journeys on Dublin Bus, Iarnród Éireann, Bus Éireann, Luas, Go-Ahead Ireland and Local Link.  All adults aged 19 to 23 are eligible for the half-price fares and eligibility continues up to the day before their 24th birthday. For holders of a current Student Leap Card, no action is required. They simply pay for their journey by Leap, and the reduced fare is deducted from their card in the normal way. However, non-student young adults looking to avail of the lower fares will need to apply for a Young Adult Leap Card for use when travelling.